Jacey Dawes.
Long before Jacey was even conceived of, I happened across a photo on a blog (
this one
) of a boy who had the most beautiful lips. The photo was this one (click thumbnails for full-size pics):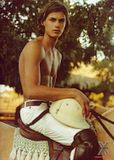 I saved the picture to my hard drive and for several months it was just a picture of a beautiful, but nameless, boy. When I stumbled across it again a few months later, I decided I needed to go back to that blog and find out the boy's name. Not only did I find out his name, I found some new pictures of him, and British model Jacey Elthalion soon got his own category in my Big Folder of Hot Men.
When I wrote the outtake from Over The Top which I'd billed as a "Jack gets some" outtake, I had to create a boy with whom Jack "got some". I decided to go through my BFoHM and realized Jacey had exactly the look for the character: the approximate age, the sexiness and innocence...and dear god, that mouth.
The outtake character Jacey came about as a result of this photo:
Dear heck. That picture was
all kinds
of inspiring. It really could be considered as the picture that started it all.
I've decided to do a series of special blog posts dedicated solely to Jacey Elthalion - sort of a thank you, and a "by popular demand" for my readers who follow me on Twitter. It's sort of funny, I suppose, that I have two British guys (Henry Cavill and Jacey) as my inspiration for characters from California and Texas. :) In any case, I hope you enjoy the eye candy in the days and weeks ahead.