Aaaaaaaaaand we're back! :)
Sooooo...if you read DD Ch 29 you'll likely have some idea what Jacey planned to do to his hair. There has been some discussion about whether this route is really the best for him to take. I wish to offer the following for your consideration.
WOW.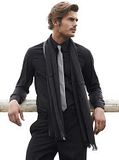 Look at the cute way it just falls over his face like that. :)
College student Jacey, totally ready to face the streets of downtown Chicago.
UNGH the fuck right out of me. I am ded.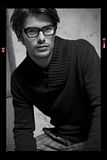 So, you know. Food for thought. ;)