Earlier this week was the summer solstice, and the beginning of my favourite season of the year. Gardening, lush grass and green leaves, barbecues, parties with friends, sitting on restaurant patios and watching the world go by...some of my favourite things.
Before I get to the pictures, I need the Fresh Prince to set the musical tone for this post. Take a deep breath, put your feet up, have an iced tea, and enjoy the sounds of the summer I turned 16. :)
I realized when hunting up the appropriate pics for this post, that I have a shitload of "Jacey at the beach", "Jacey in the sand", "Jacey in swim trunks" pictures. I decided to go for the ones that look the most like honest-to-goodness summer fun.
And what an auspicious beginning... :)

Love the way his hair is curling up in this one, the way those of us with curls or waves do when we've gotten out of the water and let our hair air-dry. (The full-sized pic of this is HUGE)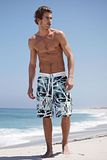 How'd you get so much sand on yer chest, there, Jacey?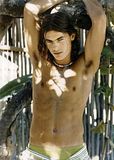 Okay, well, the set for this one is sort of fakish, but look how shiny!!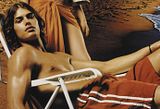 Love how relaxed he looks in this one...like he just came down your throat...pardon? I said, Like he just sailed on a
boat
.